Moist Cinnamon Crumb Coffee Cake & Brain Fog with Celiac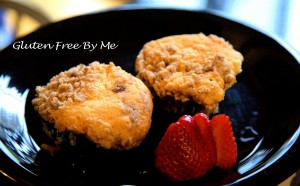 In my opinion, nothing goes together better than brain fog, sleep deprivation and coffee.  Or least that's what I feel as I get older and have more children.
Many people with Celiac or even gluten intolerance seem to experience brain fog.  It took years for me to become diagnosed with Celiac.  I was always a smaller baby, smaller toddler, smaller kid in general, but my mom was tiny, so everyone just assumed it was genetics and moved on.  During those years between when things really flared up (age 7/8) until I was diagnosed (age 19) I had every single symptom NOT written in books regarding my Celiac experience.  My body was literally attacking itself and shutting down.  The one thing I never really thought about until now was the brain fog.
Let me write this in some detail as I don't think people who do not have Celiac can really appreciate what this means.  I know people write about it, type it, talk about it, and if you were like me, you just shake your head and nod thinking yeah who doesn't have some sort of brain fog, especially if you are a mom, or maybe a dad with kids running all over town, or an adult running multiple errands, working multiple jobs, just being down right tired. Right?  Well this type of brain fog is more than just exhausting and a lot on your brain.
For example I don't remember a lot of my childhood.  Sounds pathetic doesn't it?  Many people remember their first memories when they are 3 or 4, or maybe a little older.  I remember bits and pieces here and there, but from the time it really started getting bad until I was diagnosed there is a lot missing.
Can you remember your 3rd grade elementary teacher's name, what she looked like etc? I can't.  Can you remember all your best friends from 2nd, 3rd, 4th, 5th, etc grades?  I don't remember all of them, only some.  Do you remember your first dance?  I don't.  I try to think really hard, and I just can't.  But here is the kicker, I have a photographic memory.  It is crazy and the strangest things that I see, I can remember.  Whenever anyone wants to find something in the house, and I have literally seen it or touched it at some point, then I remember where it is.  Every surgical procedure, medical thing, doctors visit, pieces of information from when I was gluten free to now, I remember!  Every detail.  Ok, maybe I miss a few, but honestly I remember a LOT.  Do you see the drastic difference?  It breaks my heart that a lot of memories, like memories of my 2 grandmothers are gone.  That kills me, but now being gluten free, I am taking the time to appreciate the lifting of the fog with or without coffee!
Now even though I don't have the brain fog I had before going gluten free, I do get tired, and I get fuzzy from sleep deprivation from a child being sick, or work I am doing, or late nights doing stuff for my kids' schools.  So I love a cup of coffee.  What I enjoy more than the actual cup of coffee is a nice moist, fluffy, flavorful muffin to go with it.  I have struggled to find a really moist fluffy muffin that is gluten free…until now!
*This is an adapted recipe from 2-3 different recipes.
MOIST CINNAMON CRUMB COFFEE CAKE
GLUTEN FREE/DAIRY FREE
Ingredients:
2 1/4 cup sugar
1/2 cup packed dark brown sugar (gluten free)
1/2 cup packed light brown sugar (gluten free)
4 1/2 cups gluten free flour loosely measured, not packed tight.  (I used Tom Sawyers blend this time-it was GREAT)  **make sure your blend has guar or xanthan gum in it. **Make sure to mix or sift your floor to get it loose before measuring.
1 tsp sea salt
1 1/2 tsp ground cinnamon (I use Korjinthe cinnamon *cinnabon cinnamon) * a higher end cinnamon makes the world of difference!
1/2 tsp. ground allspice
4 sticks (1 lb) gluten free butter (I used earth balance) softened
3 eggs (warmed to room temperature)
1 1/2 tsp pure vanilla extract (gluten free)
1/2 tsp. baking soda (gluten free)-use a fresh newly opened baking soda for best results
1 cup coconut vanilla yogurt (or any vanilla flavored yogurt)
Directions:
1.  In a large bowl, mix 2 cups of the flour, 1/4 cup sugar, all the brown sugar (both kinds), 1/2 tsp sea salt, cinnamon, and allspice.  Use your hands and mix in 2 sticks of butter until it is moist and crumbly.  Set it to the side as this will be your topping.
2.  Preheat the oven to 350.
3.  Lightly grease muffin tins, or use muffin papers lightly sprayed with Pam or another oil (make sure the Pam is a gluten free kind).
4. Cream the remaining 2 sticks of softened butter at high speed with an electric mixer.
5.  Gradually add the remaining 2 cups of sugar and beat on high until fluffy.
6.  Beat in the eggs 1 at a time and mix gradually until you are at high speed on the mixer.
7.  Beat in the baking soda, 1/2 tsp of sea salt, and vanilla, making sure to mix it all together.
8.  Lower the speed to low and gradually beat in 1/2 of the remaining flour.  Mix only until incorporated.  Mix in 1/2 cup of the vanilla yogurt.  Repeat with the rest of the flour and the rest of the vanilla yogurt.  At this point of mixing you don't want to turn the mixer on any higher than low.  You are just incorporating the ingredients and you don't want to add extra air into the batter now, it will only make your muffins fall.
9.  Fill the muffin tins 3/4 to the top (or see suggestions below).  Take the crumbled mix you made before and add it pushing it gently into the tops of the batter.
10.  Cook for 20+ minutes until the center comes out clean from testing with a toothpick.
SUGGESTIONS:
***If you want your muffins over the top of the tin, fill it almost to the top, but remember to put a cookie sheet underneath on the next rack as the muffin starts to rise the some of the topping may start to fall over the edges.  Make sure to push the topping slightly into the batter before cooking.
**Cooking times will vary by oven.  I usually check at 20 minutes initially and then ever few minutes so you don't overcook.
HAPPY EATING!