Gluten Free Cheesy Herb Pork Chops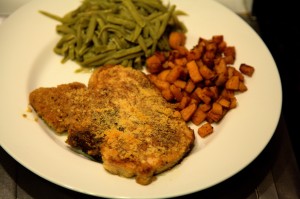 I made it my policy to have NO MORE DRY PORK CHOPS!  I have never been a huge fan of pork chops growing up, unless it was covered in shake n bake, in which some how that crusty goodness would keep those chops moist, or smothered under apple sauce!  Now, of course, shake n bake is not an option since it is not gluten free.  Once I started cooking chops on my own I have tragically failed several times and produced something  that could create a drought in your mouth!
Being dry isn't just about meat, it can also be about the topic of Celiac or gluten free.  I have talked to more than a handful of friends and colleagues alone this week that discussed with me the difficulties of being gluten free with a spouse, significant other, parent, family member, friend, or co-worker that just didn't understand the important of being gluten free. It is not a fun topic to discuss as most people do not want to change their eating habits, nor give up their favorite foods.
Just like finding the right way to make a good chop, you have to find the right way to communicate your disease or intolerance.  The right kind of support can be key and instrumental in sticking with and staying on a gluten free diet.  Is having a dual household with gluten and gluten free easy? I have found it is very hard.  Is it easier to have a totally gluten free eating environment?  Sometimes, but I realize it is not always easily doable.  If one or more of your family has Celiac or gluten intolerance, I highly recommend a totally gluten free household.  It sounds much harder than it is!
I think the most fun about going gluten free is showing anyone who tries my food that it is just as good as gluten or better!  Being "without" gluten does not mean being "without" anymore.  Keep that in mind!  There is an alternative for practically everything.  AND feeling better while eating it is just icing on the cake!
**Please note in the recipe below I share how easily this can be a gluten recipe for those of my friends following the blog that do not want to eat the gluten free option!**
GLUTEN FREE CHEESY HERB PORK CHOPS
INGREDIENTS
1 package of BONE IN pork chops of various cuts (you can use any cut of bone in chops, but the key is the bone!- I call it the flavor lock!)  *This recipe works well for 4 very large bone-in chops of any variety of cut.  If you have a package with more chops-please double this recipe!
1/2 cup gluten free bread crumbs (use regular bread crumbs or crushed Ritz crackers if you can have gluten)
2 tsp garlic powder (gluten free)
1 tbs. onion powder (gluten free)
1/4 tsp sea salt
1 tbs Weber Canadian Chicken Seasoning or any poultry seasoning (gluten free)
EVOO
4 tbs butter (I like land o lakes, or earth balance if dairy free)
1/2 cup shredded cheese (*Remember to use fresh and shred yourself (gluten free)).  I like parmesan, or a combination of fresh parmesan  & romano, but you can use any cheese you like.  Nice way to change and alter this recipe
DIRECTIONS:
1.  Rub both sides of each bone in chop with EVOO.  Approximately 1/4 tsp or so per chop.
2.  In a small flat  dish, pour the bread crumbs, garlic powder, onion powder, sea salt, and poultry seasoning in and mix thoroughly.
3.  Coat both sides of the pork chop with the bread crumb mixture.
4.  In a large non-stick skillet heat the butter on high heat.  When the butter is sizzling sear the pork chops on both sides until golden brown.  Usually about 1-2 minutes per side.
5.  Pre-heat the oven to 350 degrees.
6.  Place seared pork chops on a cookie sheet lined with foil and sprayed lightly with cooking spray or EVOO.
7.  Evenly distribute the cheese on each pork chop and spread around the top of each chop.
8.  Cook for 30 minutes on average or until meat near the bone is no longer pink and done.
**The key to a moist chop  is searing in the juices at the beginning but then not overcooking your meat at the end.  Please check after 30 minutes if you are using a bone in chop and if it as least 1/2 thick.  Then check every 5 minutes or so as to not over cook.
I usually cook my pork chops with a side of fried potatoes and onions or cinnamon sweet potatoes (recipes to come)!
HAPPY EATING!