Gluten Free Rich Swedish Style Meatballs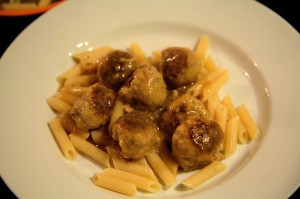 Rich Swedish Style Meatballs
Gluten Free
Thinking about Sweden/Swedish meatballs really got me thinking about traveling.  I know many people often ask me how do you travel with a family all on a gluten free diet.  Honestly it is pretty easy.  We travel 14-16 hours in a car to visit family at least once per year, and we went to Disney World last year with a 6 year old, 4 year old and 1 year old.
Gluten Free Eating In The Car:
So first let's talk about the car travel.  We are lucky to have a deli in our grocery story that only has gluten free meats and cheeses.  So there is no cross-contamination.  Although you could go in first thing when the deli opens and be the first customer, after the equipment has been cleaned.  So we get boars head meats and cut them thick and into cubes, like you would for a meat and cheese tray.  I do the same for boars head cheeses.  So I create these cubes of meats and cheeses and put them in ziploc bags in little coolers for the kids.  It isn't messy and easy to pick up and eat in the car while driving.  I have also taken gluten free smoked sausage and pineapple and put them on skewers touching each other in the oven and baked on 350 for 20 minutes until warm and placed in a thermos for a quick warm treat. You can do the usual peanut butter & jelly sandwiches on Udi or another gluten free bread.  We have gotten gluten free pizza and taken that on a trip.
Often if I know we will be in a hotel and I don't want to go out to find dinner, or don't know what is in the area, I will make a meal and pack it in a cooler to bring and nuke in a microwave, like gluten free spaghetti or gluten free sausage ariabatta etc. I always cut up fresh fruit in small cubes to eat on the road or while we are pulled over at a rest stop to eat.  So cut up strawberries, honey dew, cantaloupe, watermelon, pack grapes, whatever you like.  We pack up gluten free crackers like glutino, gluten free cookies for dessert and bottled water and juice boxes for the kids.  Honestly making these fun coolers full of different foods is my middle son's favorite part of a trip.  We may even put dried gluten free banana chips (from trader joe's or whole foods), dried strawberries or blueberries etc.  You can do cut up carrots, celery, cucumber, zucchini, peppers or any vegetables.   I try to keep the mess down so we stick with gluten free pretzels or plain chips.  Yeah…I remember the year I packed the natural cheese puffs.  I am sure you can imagine the puff powder down the front, all over the car seat, windows, doors etc.  It was not fun!
In each of these coolers/lunch boxes for the kids I have a small mini water bottle (remember you don't want to stop every hour to pee), napkins, wet wipes (in small ziplocs) and tons of mini ziplocs full of food.  They can eat whatever, whenever they want.  So dessert for breakfast, all their fruit first etc.  I don't really care.  I pack a fork and spoon in there as well.  We have one large cooler with all the big stuff or stuff I can refill later at a stop if they run out.  In the larger cooler you could bring 1 of your favorite dressings (in case they don't have gluten free options at a restaurant-or those little packets of a few saved from another dining experience), or if you pack a salad for the hotel later for a stop!
Gluten Free Dining Out
What about restaurants along the way?  I would do your homework before leaving and look at what is on the major roads along your trip.  Not all areas have the same fast food places or restaurants and some cities or states seem to have better options than others.
I find this website below (and now they have an app), to be an excellent resource to find gluten free dining experiences.
http://www.glutenfreeregistry.com/
I have a few recommendations for any Celiac or gluten intolerant person dining out.
1.  Try to go to restaurants or places that have dedicated gluten free menus.  In my experience this means that all staff, chefs etc. have been better versed on the menu, gluten and what Celiac is (for the most part).  I find that restaurants that can just "accommodate" any allergy does not realize about cross-contamination and the severity of getting gluten if you have Celiac or gluten intolerance.
2.  Talk to your wait staff, your chef, and/or the manager.  Make sure everyone knows that there is a food allergy and what that is to help your dining experience.
3.  Make sure to tell them that you or your family member have a "severe allergy to gluten".  Not everyone knows what gluten is, or what gluten intolerance is, or definitely what Celiac disease entails.  Everyone knows the words food allergy.  Images of throats closing shut, hives, and EMT rushing into any fine dining establishment will keep everyone hypervigilant.
4.  Don't be afraid to ask that the grills be cleaned, your food be cooked in a separate area, that gloves get changed etc.  People don't always understand these things and reminding them does not make them think you are high maintenance.  If done in a kind way, many will do this will no issues or fear of spitting in your food (just kidding).
I will talk more about gluten friendly restaurants we like to frequent while traveling or dining out next time!  It can be done, and I am super sensitive to gluten so I know it is possible.  I will also share our family's gluten free experience at Disney World in another blog as well!
So onto the recipe!
RICH SWEDISH STYLE MEATBALLS
GLUTEN FREE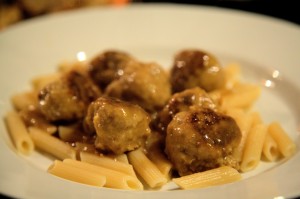 Ingredients:
1.3 lbs of ground turkey (gluten free)-you could sub any other group meat in here as well.  Most ground meats are gluten free, but just check to make sure there are no added broths or spices that may not be gluten free
1 tbs garlic powder(make sure there are no anti-caking agents aka gluten in any of your spices)
1 tbs onion powder
1/2 tsp white ground pepper or black ground pepper
1 medium onion (diced very fine)
3/4 cup of gluten free dried bread crumbs (we like to use Gillians bread crumbs that are gluten free, wheat free, soy free and dairy free) * for my friends with a rice allergy-glutino gluten free bread crumbs would work or making your own corn flake crumbs would work well too).  For gluten friends-any bread crumbs will work.
1 egg lightly beaten
3/4 tsp Allspice
3/4 tsp sea salt
2-3 tsp vegetable oil
3 tbsp all-purpose gluten free flour (I used Tom Sawyers or have used Bob's Red Mill gluten free flours before)
2 tbs gluten free butter
1 can (14oz) of beef broth (gluten free)
1/4 cup gluten free heavy whipping cream, or I have substituted soy creamer
2 tsp onion powder
1/2 tsp black pepper
1/4 tsp Worcestershire sauce (I use Lea & Perrin)
1/2 tsp sea salt (for sauce) **If you use a regular sodium beef broth you may want to hold out on this last 1/2 tsp of salt for the sauce until you taste.  It may be enough without it.
Directions:
1.  Chop the onion very fine.  I used a food chopper.  Combine the onion (all juices as well), bread crumbs, turkey, egg, allspice, salt, pepper, onion powder, and garlic powder.  Mix thoroughly.
2.  Heat vegetable oil in a large deep sided skillet over medium to medium high heat for about 3 minutes until the oil is warm.
3.  Take a large spoon and make rounded meatballs with your hands.  You can get 20-30 meatballs out of this recipe.  You can make them any size, but I often find a serving spoon makes about 1 1/2″ meatballs.   Place the meatballs in the skillet.  Cook 6-8 minutes until browned turning once.  They are fragile so turn them carefully.  They do not have to be cooked all the way.  You are just looking for browning on both sides, and cooked on the outside.  Remove from skillet on a plate.  You may have to do this twice with the amount of meatballs as they may not all fit at once into the skillet.
4.  Next make the sauce in the same large skillet immediately after removing the meatballs.  All browned bits and left over oil are fine to be left.  Add the flour and the butter to the skillet and mix making it into a smooth paste on medium to medium-high heat scraping any bits into the sauce.  Slowly add the broth, cream, onion powder, salt, pepper, and worcestershire sauce stirring constantly.  Cook for 1-2 minute until the broth comes to a simmer.
5. Return the meatballs to the skillet in the sauce and cook covered on medium high or medium heat for 10-15 minutes or until meatballs are done and no longer pink in the center.
*I cook these with either gluten free noodles underneath the meatballs & sauce, or you can get fingerling potatoes and boil or fry them and serve with the sauce and meatballs.  Feel free to double the sauce if you want extra gravy.
Happy Eating!