Gluten Free in the Media & Best Savory Sausage Arabiatta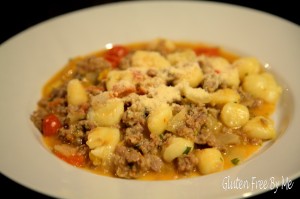 There is a lot of buzz in the media lately about gluten free diets being a fad, and many celebrities going gluten free to lose weight etc.
First of all I think it is great that there is much more awareness out there regarding Celiac disease and gluten free!  It has been many, many years since I was first diagnosed, and I cannot even begin to tell you how hard it was to find gluten free items.  I know I am going to sound like someone telling you a story of trekking up hill both ways to school with holes in my shoes and in 10 feet of snow, but really it was next to impossible to find anything gluten free, and if you did it was ridiculously expensive and taste horrible!
So think back about 14+ years ago.  Atkins diet was coming out hot and heavy, so at least people understood low carb.  Now in my lack of knowledge upon first being diagnosed (after years and years of suffering without knowing what was wrong), I assumed I could still eat at all my regular places and just ask for things without a bun!  Right?  How hard can that be?
My first time I drove through McDonald's, I asked for a hamburger without a bun.  They questioned me at the drive through for over 5 + minutes about why the heck I wouldn't want the bun, and couldn't I just take it off myself?  Needless to say the cross contamination alone killed my gut, but the conversation was priceless.
I remember my parents ordering food from Colorado and having it shipped in boxes so I could have pretzels and pasta that were gluten free.  It cost an arm and a leg.  It was nuts, and some of it was completely and utterly disgusting.
Now it seems like more and more people are becoming aware of Celiac disease and gluten intolerance.  Most of the restaurants I frequent have family members with Celiac and that is why they have created gluten free menus!
I know there are many people angered by how people do not take Celiac seriously and want to just jump on some bandwagon.  First and foremost I want to THANK the companies that have family members or know someone with Celiac or who just want to have options for those of us with Celiac disease.  There are people out there taking all the necessary precautions to try to keep cross contamination issues at bay, and make delicious food so we can enjoy eating out with our friends and families!  THANK YOU to those who care enough to understand that for those of us with Celiac this is not a fad diet, or something we choose to do for fun!  The way I feel when I get gluten is not something I would wish upon anyone.  I literally beg God to let me die many times while my intestines feel like they are being ripped out.
There are companies out there that have their gluten free foods pre-packaged, or cook them in separate ovens, or take proper precautions to have a good dining experience.  NOW, there are some people who want to jump on this bandwagon.  To them I say SHAME ON YOU!  Seriously! By downplaying Celiac and not taking proper measures to ensure the food is safe you are slowly killing us!  How dare you do something so heartless and cruel.  If you have ever seen someone go through a gluten attack, whether that is an adult or a child, it will open your eyes forever!  I don't think you would ever think to do that again!
For those that tease or make fun of those with Celiac, please stop and think about what you are saying and doing.  It is not a choice that we make to eat different food, or to make a big stink that our food is prepared properly.  We are not snubbing your food at parties and potlucks, or questioning your recipes because we think you can't cook.  It is a way to ensure our safety and our lives.  Consider your Celiac's safety today!
BEST SAVORY SAUSAGE ARRABIATTA
Gluten Free
Ingredients
1 package of gluten free/dairy free gnocchi or pasta
3 tbs Extra Virgin Olive Oil
1 lb of gluten free sweet italian sausage (you can buy the links and just take them out of the casing or buy bulk sausage)  If you don't have sweet sausage at the store, add a large pinch of basil.
6 cloves of fresh garlic minced
1 package of sweet grape tomatoes or cherry tomatoes
Sea Salt to taste
1 medium sweet onion diced
3 large peppers sliced or diced (I like red, yellow and orange for color)
1 cup dry white wine, or cooking wine
1/2 cup fresh basil or dried basil
Fresh grated parmesan cheese
DIRECTIONS:
1.  Heat the oil in a very large skillet or a dutch oven on medium high heat.  Add the sausage breaking it up into small pieces.  Brown for 2 minutes, then add the onion, garlic, and peppers and saute.
2.  Cook until the sausage is no longer pink and fully cooked and vegetables are cooked down.
3.  Deglaze with white wine scraping all bits on the bottom.  Cook down until the wine reduces by 1/2.
4.  Add the basil and the cherry/grape tomatoes cut in half and cook for another 5 minutes.
5.  Heat the gnocchi or pasta as directed on the package and place on the bottom of the place after cooking.  Add the Sausage Arrabiatta, and add fresh grated parmesan on top.
HAPPY EATING!