Best BBQ Pulled Pork Gluten Free (Crock-Pot Version)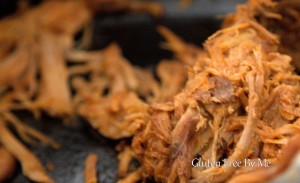 HOSTING A BIG PARTY OR GET TOGETHER?
Sorry I have been missing in action the last month or more.  We have been busy moving into a new house, hosting 3 big birthday parties and a work party for my husband!
When thinking about big parties or gatherings it can be sometimes difficult to find simple, yet tasty food items you can bring, or make for everyone that is easy to do and gluten free!
Being at large gatherings can be intimidating and frustrating.  Some of your closest family members or friends can often suggest making you gluten free items so you can feel like part of the big event.  Please remember to take the time to educate them on being gluten free!  Many people often forget about cross-contamination.  They have to remember about items in which they dip a knife, or spoon back into a jar (even if the item is gluten free), and they have to think about what they used that was not.  Flour can be in the air for 24 hours, so they must think about what they have prepared for their guests in the same room while they are making gluten free items.  You also have to think about placing items near or on the same plate as those that are gluten free!  All of these things can be done and be prevented, but you just have to be aware.
If you are attending a party you can always ask the host what they are having and just offer to bring more items so you know you will have plenty to eat at the party.  I find that talking about Celiac and gluten free can be a great ice-breaker, and people often have a lot of questions or know someone who has Celiac.
Lastly you could always eat before you go, but in all honesty I am a social eater and love eating at large functions, so I tend to just bring an entrée, side and dessert

The pulled pork below is an easy crock pot recipe that always goes over great at any party I have ever hosted, or attended!
BEST BBQ PULLED PORK
GLUTEN FREE
Crock-Pot
INGREDIENTS:
1 large picnic or shoulder pork (I have successfully used 3 lbs up to 11lbs with the same recipe)!
3 lbs will feed a family of 5 nicely with leftovers.  11lbs will feed a party of 20 or more.
1 cup of Canada Dry Ginger Ale
4-5 tbs of Onion Powder
2-3 tbs of Garlic Powder
1 Large Bottle of Sweet Baby Ray's Honey BBQ (or your favorite gluten free BBQ Sauce)
1 large onion sliced thin
DIRECTIONS:
1.  Place half of the sliced onion spread out on the bottom of the crock-pot.  Reserve the other 1/2.
2.  Place the picnic pork or port shoulder fat side up in the crock-pot.  Rub the onion powder and garlic powder all over the pork.
3.  Place the other 1/2 of the sliced onions evenly across the top of the pork.
4.  Pour 1 cup of ginger ale on top of the pork.
5.  Turn crock-pot on low for 8-10 hours.
6.  Take pork out of juices and let cool enough to touch and pull apart (shred).  Reserve 1-2 cups of juices only and you can also reserve some of the cooked onions if you prefer.  I use gloves as this gets very greasy but should be extremely easy to pull apart and super moist.   Shred all the meat discarding the fat and bones.  Discard remaining juices.
7.  You can reserve or keep some of the onions to place back into the crock-pot with the shredded pork.
8. Add 1-2 cups of the juices back into the crock-pot with the shredded pork and/or onions.  I use enough juices to make the meat moist but not have extra juice sitting.   Add BBQ sauce To the desired flavor you like.  Turn crock-pot back on low for 30 minutes to 1 hour before serving to warm sauce thoroughly.
HAPPY EATING!