Moist Delicious Easy Gluten Free & Dairy Free Cupcakes, Chocolate Syrup & (How to handle parties!)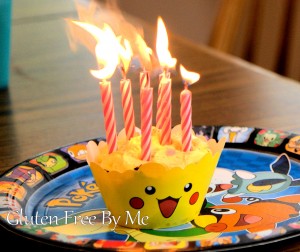 I apologize that I have been missing in action for about a month!  We moved, and within 1 week of moving into our new home, celebrated my oldest son's 7th birthday at the new house!
Parties can be overwhelming, whether you are hosting or going, if you have Celiac Disease or have gluten intolerance.  It is one of those feelings you get at the pit of your stomach that involves fear, anxiety, stress, embarrassment among a million other feelings.  Let's start with hosting a party.  I LOVE hosting parties.  Now don't get me wrong.  I stress over the preparation.  I agonize over cleaning and preparing my house for guests.  I look over the menu at least 50 times and to make sure I have items everyone will want to eat.  I try to plan for a lot of fun things so there are no heart-felt cries of boredom!  But at the end of the day when someone says "Wow!  THIS is gluten free?  It's wonderful!"  I know it is all worth it!
As you know, if you have been following my blog, our entire family is gluten free.  So I look to parties as a time to be able to share our food, Celiac disease, and awareness among friends and family!  Sometimes it is the unknown that makes people skeptical, or not sympathetic, or just uneducated about the disease.  This is my opportunity to raise awareness.
I don't think it matters if you have young kids, infants, toddlers, elementary, middle school, high school, college, adults or any age person who has Celiac or gluten issues, bullying, a sense of fear, a sense of hiding has been felt at some point.
Eating at a picnic or out is different from hosting, but today I will focus on hosting and next blog I will focus on attending a party.  I always take the time to ask any of the people I invite to the party or their parents if there are any food allergies.  Once I get any yes answers, I talk to the parents individually.  As someone with Celiac, just because someone says they can accommodate does not mean they know how.  I am super sensitive, so cross-contamination is a huge fear and issue for me.  So I have to talk about hidden gluten, cross-contamination and cover all my bases.  I do the same for other allergies that people may have that may attend our parties.
Today's recipe is delicious!  It is SIMPLE!  And it is fast!  I make cake from scratch often, but if you can take a box recipe and make it better than why not.   I spend all day the day before and the day of slaving over an oven cooking.  If I can cut out one thing and make it simple…why not???
I do make a scratch chocolate syrup (since my middle is dairy free).  In my opinion this is way better than any store-bought syrup out there, simple to make, and stores in the fridge for months!
CHOCOLATE SYRUP RECIPE
GLUTEN FREE/DAIRY FREE
1/2 Cup gluten free cocoa powder (I used unsweetened Hershey)
2 Cups sugar
1 Cup water
1/8 tsp Sea Salt
1/4 tsp gluten free vanilla
DIRECTIONS:
1.  Mix the cocoa and water in a saucepan on medium heat.  Stir to dissolve all of the cocoa and mix into the water.
2.  Add the sugar and mix and dissolve together
3.  Raise temperature to high and boil for 3 minutes.  You may have to reduce heat to medium high after initial boil so it does not boil over the pan, and stir constantly.
4.  Remove from heat and add the salt and the vanilla.
**Can be stored in a jar or Tupperware for several months in the refrigerator.
MOIST DELICIOUS CHOCOLATE CUPCAKES FROM A BOX!
GLUTEN FREE /DAIRY FREE
1 Box of Betty Crocker Gluten Free Devil's Food Cake Mix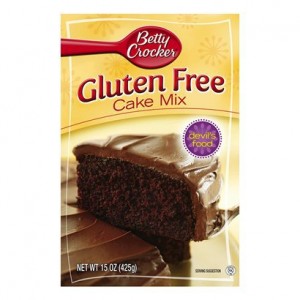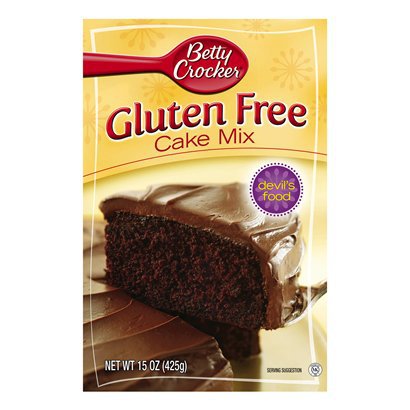 3 eggs
1 cup of water
1/2 cup of melted butter
*Gluten free/Dairy free chocolate syrup
Gluten free/Dairy free icing
DIRECTIONS:
1.  Make the cake as directed on the back of the box.
2.  Add 1/3 cup of chocolate syrup to the batter.
3.  Use sprayed cupcake liners and bake as directed for 18-20 minutes.
4.  Frost with gluten free icing and enjoy!
HAPPY EATING!