Gluten Free "Just Like at the Mexican Restaurant Chicken Burritos"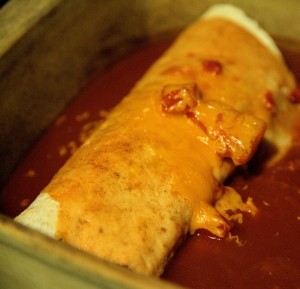 YUMMY CHICKEN BURRITOS
I am sure if you are like me, you have that hole-in-the-wall Mexican Restaurant you used to frequent before going gluten free.  You know the one, that every single person locally knows about, they are always super packed, and their food is delicious & inexpensive!  Yep that one!  I seem to always find a favorite dish at any restaurant and stick with it.  It is too hard to change when I don't go out often and LOVE the dish so much.  My favorite when going to Mexican Restaurants has always been the chicken burritos.
Ahhh I can taste it now.  The really great flavors of being a little spicy, but not too much, the chicken being super moist and the vegetables being cooked just right.  All those flavors wrapped in a warm tortilla, topped with cheese and this amazing sauce.  The sour cream, lettuce and that slice of tomato on top.  YUMMM!  I have tried a lot of recipes online for burritos and I feel they are just too rich and just don't have that authentic flavor. I think you will find this recipe to be close!
Here is the issue when you are gluten free though.  Those chicken burritos are made on flour tortillas.  Those warm, soft tortillas that I remember.  Now I haven't tried too many store-bought tortillas but I am sure you could get the same result if you warm/soften them according to directions.  I, honestly, haven't done it before.  I prefer to make my own tortillas.  One day I am going to buy a big tortilla machine.  I used to see them at Don Pablos when I ate there (pre-gluten free days).  They would get those balls of flour, press them paper-thin, then cook them on the hot griddle.  Ahhh…that will be me one day!
I know I have said it once, but I will say it again.  Being gluten free does not mean missing out on those things you love or remember most.  I love these burritos and now I can make them at home and they are just as yummy.  Don't let going gluten free stop you from eating yummy food and being able to share it with the rest of your family.  It doesn't have to be the food that only you eat, or only your child eats, or only your significant other eats.  Let the food be flavorful enough that everyone can eat it together.
I also wanted to apologize for my delay in another recipe.  The flu hit me hard.  I had a confirmed case of influenza even though I did get the flu shot.  I don't think I have ever been so sick in my life, and that says a lot since I was undiagnosed with Celiac for years!  I ended up in the ER for fluids and pain meds and thus I am finally on the mend.  Many more recipes to come!
I will post this recipe without the tortilla recipe, but will post that in a separate section!
Happy Eating!
JUST LIKE AT THE MEXICAN RESTAURANT CHICKEN BURRITOS
GLUTEN FREE
INGREDIENTS:
3-4 cups shredded poached chicken (breast, thighs-whatever you want to use) **
2 cloves minced fresh garlic
1 whole onion sliced in thin strips
1 very large red pepper sliced in thin strips (or other colors of peppers-orange, yellow etc)
1 tsp Worcestershire sauce (I use Lea & Perrins as it is gluten free)
1 tsp paprika
1 1/2 tsp chili powder
1/2 tsp cumin
1/2 tsp fresh ground white pepper
1 can diced tomatoes
2-3 cups shredded cheddar cheese or white cheddar cheese (shred yourself from a block-I used boar's head)  Check to make sure it is gluten free
4 large tortillas (can use a store-bought gluten free kind or look for next post on Gluten Free Tortilla recipe)
1 (10oz) can of enchilada sauce (gluten free)
1 (15oz) box of gluten free beef gravy
vegetable oil
ADDITIONAL TOPPINGS IF DESIRED:
Sour Cream (gluten free)
Chopped iceberg lettuce
Sliced tomatoes
DIRECTIONS:
1.  In a large non-stick skillet saute the onions, garlic, and peppers with 1tsp of vegetable oil on medium high heat until onions are clear.
2. Add the poached shredded chicken.
3.  Pre-heat the oven to 350 degrees
4.  Add the Worcestershire sauce, paprika, chili powder, cumin, pepper and half the can of tomatoes with juices.  Simmer for 10 minutes until flavors are incorporated.
5.  In a saucepan add the box of beef gravy, can of enchilada sauce & the other 1/2 can of tomatoes and juices.  Bring to a boil.
6.  Soften tortillas or use fresh home-made tortillas *next recipe to come*.
7.  Fill your burritos down the center with the chicken, onion, pepper mix.  Add some cheese down the center.  Fold the burrito in thirds by folding the side flaps in.  Place the seam side down in a big casserole dish.  When all burritos are made, pour the sauce over the top.  Add the remaining cheese on the very top of the burritos.
8.  Cook in the oven for 15-20 minute until cheese is melted and burritos are warmed.
9.  Add sour cream, sliced tomato, and chopped lettuce to the top if you want!
**To poach a whole chicken, add 2 quarts of water with 2 tsp of salt in a dutch oven or pan.  Bring the water to a boil, as soon as it starts boiling, reduce the heat to LO and cook for exactly 1 hour. If you are using smaller pieces of chicken boil then reduce heat immediately to LO for 30 minutes or until the chicken is no longer pink.  Shred with your hands or two forks.  **
ENJOY!