Sweet Caramelized Corn & Black Beans Gluten Free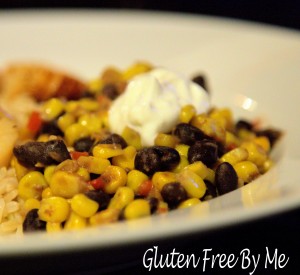 Are you new to Celiac or gluten free?  Do you remember those days if you are not?  Reminds me of this recipe.  You are unsure of the amazing flavors that will come out of this very good side based on just the name or the picture, but the flavors will amaze you.  The first thing that happens when you are diagnosed or you suspect you have Celiac or gluten issues is denial.  Then as time goes on, and you start feeling better and better, the reality sinks in, then you embrace it, and last you know there is no way you would ever go back.  AND why the heck didn't you do this much sooner?!?!
The first step of hearing you have Celiac or gluten intolerance is like an anvil has dropped from the sky right into your gut.  If you are like me and LOVE food, I mean LOVE, not a little, but a LOT, then finding this out seemed like the end of the world.  Your mind starts reeling of all the foods you think you will never see, touch, smell, or taste ever again.
Common misconceptions (I am sure there are a lot I am forgetting):
Everything will taste bland
Everything will have this horrible aftertaste
Everything will be crumbly
I won't be full because I can't eat anything
I can never eat out again
I can never eat again
Everything will taste gross
I have to give up all my favorite foods
Now, years ago, I am talking a decade or more ago, when I was first diagnosed, I would have to agree with the majority of those items.  Honestly, the food I ordered and had shipped to me was lacking in the flavor department. I learned to eat bland and flavorless.  Atkins was a big kick so people just assumed if they took the bun off or just didn't give me the carbs then I would be fine.  Ugh!
Start slow…..going gluten free is hard.  Remember there is a huge learning curve to eating healthy and changing the way you eat.  You now go from eating normally, to eating in a new normal way.
Check all items in your pantry and fridge, and make a list of your favorite go-to items you like to use to cook.  Check to see which ones contain gluten and which ones are good to go!  Common items to replace or verify and have on hand:
All purpose flour (I love Tom Sawyers or Bob's Mill, but I have heard King Arthur or Pamelas are great too)
xanthan or guar gum
Check your seasoning for anti-caking agents and replace those
Buy real soy sauce (go to the Asian market nearest you-cheaper and you can get a much bigger bottle)
Use Gluten Free Butter-Love land o lakes or earth balance for gluten free/dairy free
Buy new noodles (I love the new ones from Italy-they sure know their pasta)
Gravy (replace with gluten free ones)
Breads (buy gluten free mixes or Udi's is pretty good as well as a few other new brands I have been tasting)
Coffee creamer-replace to gluten free if not already
Brown Sugar-make sure it is gluten free
Baking powder-Most are, but check
Cornstarch-Most are, but check
This is a nice short list for now…but I will add-on as I go later in another post.
*Check your toaster and replace if you can't get all the gluten bread crumbs out.
*Replace your jarred items so you don't get cross-contamination (like butter, jellies, peanut butter, mayo, etc)
This is why I say having a totally gluten free household makes more sense so you don't have to worry about cross-contamination and honestly my family doesn't know the difference.  You can find common brands in the regular grocery store to help substitute items in your fridge or pantry without a real difference.  And NO I don't mean every item has to be from the natural food section of the grocery store.  Some very common brands can be gluten free.
When I lived in Indianapolis there was this restaurant we frequented called Yatz.  They were a Cajun creole-stye restaurant.  I didn't go there after being gluten free, until the owner told me several of their items are gluten free!  HEAVEN!  Unfortunately now we live on the East Coast and I can't get Yatz anymore unless I am visiting town.  One of my many favorite meals was called B&B.  I think this recipe is similar and I am pleased with how it turned out.
SWEET CARAMELIZED CORN & BLACK BEANS
GLUTEN FREE
Ingredients:
6 tbs butter (I used earth balance, but land o lakes works well too)
1 bag of frozen steam bag sweet corn (cooked for a few minutes to thaw and drained)
1 can of sweet corn (drained)
3 cans of black beans (drained and rinsed)
3 tbs light brown sugar (gluten free)
3/4 cup finely diced red peppers
3/4 cup milk or soy milk
cayenne pepper
sea salt
pepper
Directions:
1.  Melt butter in a large pan over medium heat to medium high heat. (I used a large dutch oven).
2.  Add corn and saute for about 10 minutes until you can really smell the sweet corn cooking.
3.  Add the light brown sugar and cook for another 5-10 minutes.  Stir constantly.
4.  Add the black beans and peppers and cook until the beans start to soften, about 5 more minutes.
5. Add the milk, cayenne pepper to taste (I used a dash as my kids don't like cayenne pepper spice as much as other spices), pepper and salt.
6.  Simmer until sauce thickens.  With this amount in the pot it was another 10 minutes or so.
ADDITIONAL ITEMS:
You can add a splash of hot sauce, more cayenne pepper, or a dollop of sour cream to the top just like the restaurant.  YUMMM!
Happy Eating!