Gluten Free Game Day Chili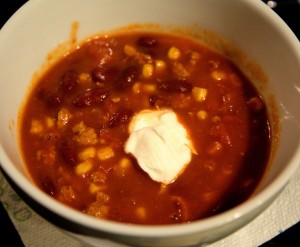 Game Day Chili
Gluten Free
It's super bowl weekend and what goes better with the Super Bowl than finger foods and Chili?  Yeah, nothing!
I love chili and my kiddos love chili.  Great flavor and easy to make.  Plus you can add things to change it up.  Topping are a favorite for the kids in our chili.  We love fresh shredded cheddar cheese and sour cream.  This is a basic chili with meat, kidney beans, corn, tomatoes, and onions.  You can alter or add to this recipe as you like.  Don't let the corn scare you.  It adds a hint of sweetness that just makes this chili complete.  I know some like to use different beans, different meats, and all that is fine!  This combo can't be missed though and I encourage you to try it out!  You won't be disappointed.
I know many people seem down about the parties and food that is prepared for the Big Game!  But honestly there are plenty of finger foods and things that can easily be prepared gluten free.  I used to have parties for football all the time and no one ever knew the items were gluten free.  I never let gluten free stop me from having the foods I love.  There are tons of thing that can be made gluten free.  Some of my favorite were mini hot dogs in homemade bbq sauce, cheese dips, artichoke dips, bean dips, jalapeno/cream cheese & bacon, chips & dip, chips & salsa, chili, meatballs etc.   Many of these recipes will come

Don't let being gluten free hold you back from enjoying foods you remember.  There is a way to make them all, and honestly they are better, healthier, and easier at times as well.
Remember on game day to watch for cross-contamination.  If there are items that are gluten free, remember to make sure to use separate forks and spoons to serve them.  There is nothing worse then thinking you are eating something gluten free, and some gluten gets into the bowl from another spoon.
How do you handle going to a big party where there is only gluten foods?  I usually ask what is going to be served?  Then I politely make my own foods and bring them along to enjoy with everyone else.  You can eat at home first and then ask to bring a side or two, so you know you can have those.  Or I would just throw the party myself instead so I know I could eat everything on the table.  I know that isn't possible for everyone, but heck I love a good excuse to eat yummy food!
GAME DAY CHILI
GLUTEN FREE
INGREDIENTS:
1 1/3 lbs ground turkey (you can use any kind of ground meat you like, chicken, beef, lamb, etc.)  This is just the size our ground turkey comes in, but you can add less, at 1 lb or more at 2 lbs.  Depending on how meaty you like your soup-check to make sure there is no hidden gluten!
2-3 tbs Chili powder (check to make sure there is no gluten anti-caking agent)
1 (64oz) bottle of tomato juice (gluten free)-I used Campbell's this time
1 can of corn (or a bag of sweet corn from the freezer section)
3 cans of dark red kidney beans
1 can of diced tomatoes
1 small onion diced very fine
*Optional
Fresh shredded cheddar (from a block of gluten free cheese)  I used boar's head
Sour cream
DIRECTIONS:
1.  Brown the turkey with the diced onions in a skillet until brown.  Use PAM or cooking spray to keep the meat from sticking and make sure to break up the meat into very small pieces.  Cook together on Medium heat until meat is done and no pink is left.
2.  Drain the fat from the ground turkey/onion mix, and pour into a large stock pot, or soup pot.
3.  Add the entire bottle of tomato juice.
4. Drain the liquid from the tomatoes, kidney beans and corn and add to the soup.
5.  Add 2-3 tbs of chili powder (depending on your taste).
6.  Cook on medium high for 1 hour minimum.  The longer you cook the soup the better the juices and meat get incorporated into the soup.  You can even do this in a crock pot on high for 4-5 hours+.
7.  Serve in a bowl and top with fresh shredded cheddar (gluten free) & dollop of sour cream (gluten free).  Let the cheese melt and stir together and enjoy!
* I used boar's head block cheddar and shred fresh (pre-shredded cheeses have less flavor and anti-caking agents that often have gluten) and I use Daisy brand sour cream in light or full fat.  Anything will work fine.
Option:
You can even throw some baked potatoes in the oven.  Once the potatoes are done, break them open and pour chili into the potato, add cheese and sour cream and serve a potato bar!
HAPPY EATING!