Fluffy Tasty Gluten Free Waffles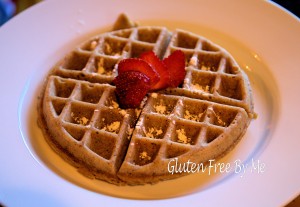 Fluffy Tasty Waffles
Gluten Free
I am not a breakfast person, but my husband and kids are.  I have to admit that once I get four hungry mouths fed, and lunches packed I run out of hot breakfast and am left with cold whatever didn't get eatens.  So breakfast has never been my favorite.  I have to admit though that without it I am starving by 10am when I am knee-deep working and counting down the clock until lunch time.
That is until I finally got these waffles just right.  We went to Walt Disney World this past year and they provide you with Mickey waffles that are gluten free for breakfast.  They are fluffy and flavorful and yummy!  I wanted to duplicate that type of effort, because without it I won't hold off on making lunches just to eat a hot breakfast.  I don't mind a good breakfast and do enjoy it when it is hot.
The other staple is a belgium waffle maker.  Yep, I finally got one and it did set on my shelves for a year before I even attempted to use it.  I think we used the recipe on the back of the bisquick pancake mix before and those were pretty good too.
Gluten free at breakfast isn't hard to do.  There are so many tasty options.  We make waffles, pancakes, toast, scrambled eggs, or fried eggs, or omelets.  There are a lot of gluten free cereal options too, but I like to really have a hearty breakfast if I am going to take the time to sit down and eat.  There are many gluten free bacon options and gluten free breakfast sausages out there as well.  Making smoothies for breakfast alongside your meal can be wonderful as well.  I will post some of my favorite ones soon.
Some of my favorites if you are looking for some items to try out are:
Vans waffles as they are gluten free and dairy free (which is a big deal with my youngest)
Jones maple sausages (patties or links)-Certified by the Celiac Association
Udi Cinnamon Raisin Bread (gluten, dairy, and nut free).  These are great toasted with butter and a little dash of cinnamon sugar.
Cavendish potato patties
The problem I find with gluten free waffles is that they tend to be dense, not fluffy, and kind of blah.  I mean I like flavor in every single bite!  So after tweaking this recipe several times I think I found a keeper.  It seems like a lot of steps an a lot of dirty dishes, but honestly I made it the quantity I did because then I put the leftover batter in the fridge and make some every single morning without the trouble!
*You can make about 8 large belgium style waffles or more with this recipe.
FLUFFY TASTY WAFFLES
GLUTEN FREE
Ingredients:
1 1/2 cups brown rice flour (gluten free)
1/2 cup white rice flour (gluten free)
1/2 cup sweet sorghum flour (gluten free)
1/4 cup whole ground flaxseed meal (gluten free)-I used Bob's Mill
1 cup potato starch (NOT FLOUR)
1/2 cup tapioca flour (NOT STARCH)
4 tsp baking powder (gluten free)
2 tsp salt
1/2 cup oil
4 eggs
3 cups homemade buttermilk (I use gluten free soy milk and for every cup I squeeze about 1 tsp of fresh lemon juice in to let it turn into buttermilk)  I eyeball this.  Cut the end of a lemon off ( 1/4 of the end and just squeeze juices into the milk and let set for 5 minutes)
1 tbs fresh ground cinnamon  (I highly recommend Korintje Cinnamon-it's the kind Cinnabon uses…you will never go back-more robust flavor but worth it)
2 tbs gluten free brown sugar
1/2 stick of melted gluten free butter
1/2 tsp gluten free vanilla
Directions:
1.  Sift or use a fork and fluff and mix the flour, starch, baking powder and salt.
2.  Separate the eggs into yolk and whites.
3.  Melt butter on low heat.
4.  Use a hand mixer and beat the yolk, milk, oil, butter, cinnamon, brown sugar, and vanilla together.
5.  Beat the egg whites into a stiff peaks.
6.  Add the yolk mixture to the flour mixture and mix gently.
7.  Gently mix in the egg whites until incorporated.
8.  Turn your waffle maker on high, and lightly grease or spray with Pam your waffle maker.  Cook until the light indicates done.
Enjoy your golden browned, fluffy and flavorful waffles that are gluten free and maybe dairy free as well.
Add fresh strawberries, or gluten free powdered sugar as you desire.  Syrup tastes pretty yummy too!
Happy Eating!