Amazing Roasted Hericot Verts French Green Beans & Respect for Celiac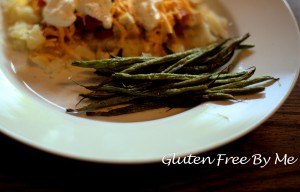 Respect.  Seems like a simple thing to do in life, and a simple way to live.  I think often it is the lack of understanding about the different between Celiac disease, gluten intolerance, and an a food allergy that causes anaphylactic reactions that makes people give people such little respect to those with Celiac or gluten issues.
I applaud your family, friends, neighbors, acquaintances, bosses, etc. that invite you over for a party or dinner and want to be respectful to the fact that you or one of your family members has Celiac disease.  I think it raises awareness and it shows that they want to include you.  Heck it feels good to be able to join in the food and not feel like you have to eat before you come, or not eat at all.
I won't lie, you will have a mini panic attack when you get the invitation.  Do they really care?  Will they work with me and be safe in handling the food?  Will I seem high maintenance?  I never worry about my Celiac or my food options until it comes to pot lucks, dinner invites, party invites etc.  The more you bring or participate the less worry and stressful it will be.
My issues come in when they ask what you need to do to ensure a safe dinner/food experience and then really don't care.  Just because you cannot see a person's face, lips, eyes swell shut, does not mean the damage you are doing to their body is not real.  For an anaphylactic reaction you can resolve your body of the issue (hopefully without too much consequence) fairly quickly with reversible damage.  With Celiac the damage that is done by ingesting gluten can take days, weeks or even years to truly heal.  It affects every organ, body, your mental well-being.  It takes a toll to get "glutened".
HOW TO ENSURE A SAFE FOOD EXPERIENCE AWAY FROM HOME:
1.  Take the time to educate those that really want to know how to make it a safe dinner/food experience, and about Celiac Disease.
2.  Thank your host and share how important it is that they are willing to do this. (If a host does not offer-don't force them-if their heart is not in it, you will see a lack of care in preparation and you will end up getting sick.  Not worth it in my eyes.)
3.  Talk to them about proper food handling.  If they are going to use flour or make breads, or baked goods, flour particles can be airborne for up to 24 hours!
4.  Talk to them about how gluten free foods cannot touch gluten foods, this also includes touching foods that are gluten and then handling gluten free foods.
5.  Have separate dips clearly marked for gluten free so there is no cross dipping.
6. Talk about hidden glutens in cross-contaminated jars, butters, and other items like chicken injected with chicken broth.  Education is key.
7.  Work hand in hand with your host.  If you talk about the brands, foods, where to purchase them, that you are willing to bring items, it makes for a happy collaboration!
Eating with another family at their home CAN be done.  You have to make sure the host wants to do it, because not knowing about any allergy can be daunting.  It can be overwhelming at first, but with proper education, and a collaborative effort it can be done in a mutually beneficial way!
I love green beans and respect a yummy recipe involving green beans.  This has to be one of my all time favorites!
AMAZING ROASTED HERICOT VERTS FRENCH GREEN BEANS
GLUTEN FREE
DAIRY FREE
Ingredients
1 large family size bag Fresh Hericot Verts French Green Beans (or any fresh green bean)
1 tbs onion powder
1 tsp sea salt
2-3 tbs EVOO (Extra Virgin Olive Oil)
Directions:
1.  Take your fresh bag of Hericot Vert French Green Beans and stick them in a bowl or in a large ziploc bag.  Make sure you trim any bad ends while you do.
2.  Pour 2-3 tbs of EVOO over the green beans.
3.  Add the onion powder and the sea salt.  Mix very well to coat all green beans evenly.
4.  Pre-heat the oven to 375.
5.  Line a cookie sheet with foil and lightly spray with Pam Cooking Spray (gluten free-don't use the baking kind with added flour)
6.  Spread the green beans out evenly on the cookie sheet.  Place the pan in the oven and roast for 45 minutes turning once after 20 minutes.  You want to allow the green beans to brown in some spots and really roast to get the nutty flavor out.  Check after 30 minutes and continue cooking if they are not browned enough.
HAPPY EATING!!